Speed Infotech Holdings Limited will celebrate its 10th anniversary in the aftermarket in the new year.
12/2010
The company is inviting its friends and customers from around the industry to join them for a drink and mark the occasion at the REMAX@PAPERWORLD 2011 trade show in Frankfurt.

Founded in 2001, SPEED INFOTECH has grown from a small-scale ink and toner remanufacturer to a thriving international business offering a comprehensive range of new and remanufactured cartridges with private labelling and speciality packaging, within a world-wide service and distribution network.

Benjamin Young, SPEED INFOTECH co-founder and General Manager, said: "What started 10 years ago with a small amount of capital and a good idea has steadily grown into a business far exceeding our expectations. We are all very proud of this accomplishment and grateful to our customers and employees who helped get us here."

SPEED INFOTECH was founded in 2001 by Young and State University friends Charles Zhao and Ricky Lee, and the company says each founder brought their own unique skill to the table: "Benjamin's international business experience, Charles and his knowledge of production-flow management, and Ricky's new technology and business acumen."

Young continued: "Today, SPEED INFOTECH commands an enviable position in the market as a leading supplier to major international companies, with ISO manufacturing facilities that produce cartridges accredited by all the leading industry quality standard organisations, we employ many of the aftermarket industry's most experienced and knowledgeable people."

"We pride ourselves on producing high-performance products and providing a service that is reliable, efficient and competitively priced — all backed by our no-quibble guarantee and my personal assurance that every one of our customers will receive the very best service and support from the SPEED INFOTECH staff."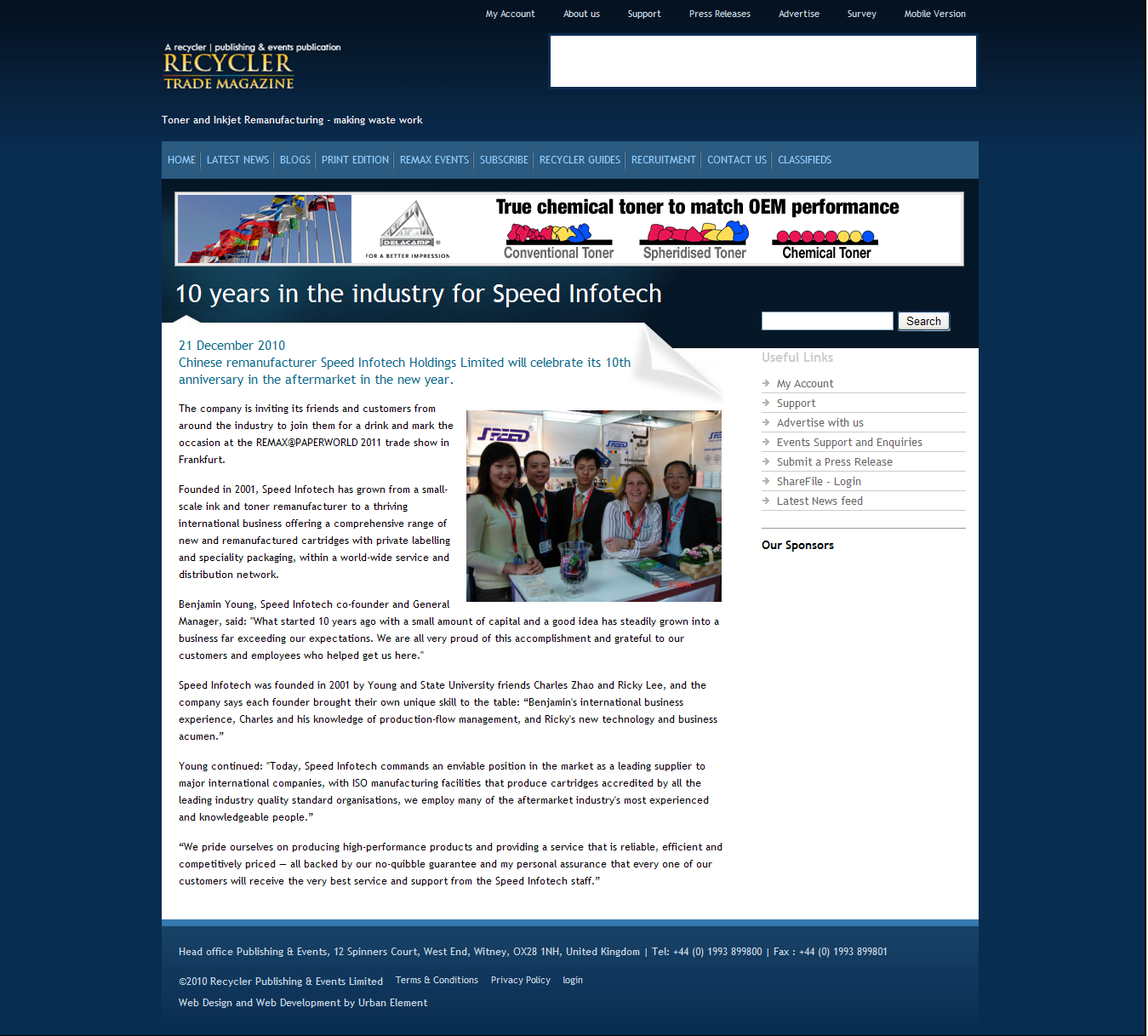 --<The Recycler>